11 August, 2020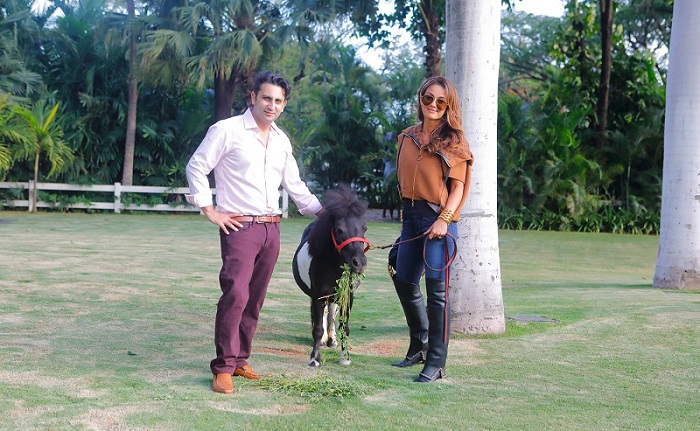 Adar Poonawalla, CEO of the Serum Institute, and his wife, Natasha, at their ranch in Pune, India. Photographer: Subhash Sharma for Bloomberg Businessweek
The World's Best Hope for Enough Covid-19 Vaccine Comes from India
The Serum Institute of India is preparing to crank out a billion doses. And that's just the beginning.
By Ari Altstedter
As chief executive officer of the Serum Institute of India, the largest manufacturer of vaccines in the world, Adar Poonawalla can produce about 1.5 billion doses a year of almost any inoculation. He has machines that fill 500 glass vials every minute, and gleaming steel bioreactors almost two stories high that can make more than 10 million shots a month. He can claim, credibly, that he helps inoculate 65% of the world's children, in more than 100 countries, against diseases such as measles and tuberculosis. And deep inside Serum's lushly landscaped, 50-acre campus, about three hours inland from Mumbai, he's already brewing the raw materials to make one of the leading experimental vaccines for the novel coronavirus at a scale that could make a serious difference to ending the pandemic.
But before getting into all that, the first thing Poonawalla wants to show me during a recent visit is his office, because it's brand-new—and it's a plane. Specifically, a converted Airbus A320. "This is kind of similar to Air Force One," he says as he leads me through an onboard lounge, a 10-person boardroom, and, finally, in what was once coach, a bedroom that could easily be found in a five-star hotel. It's all elegantly designed, vaguely art deco, and accessed through a luxe jetway with marble floors and carved wooden doors that's connected to ground level by a dedicated elevator. How much did the remodeling cost? "Oh, nothing," Poonawalla replies before revealing the figure: about $1 million.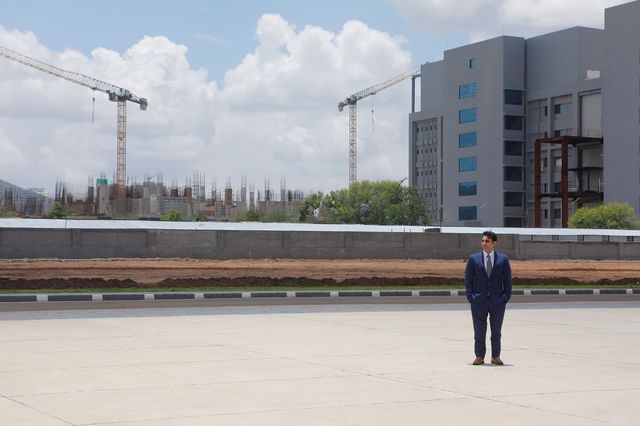 Poonawalla in front of the construction of a vaccine factory. Photographer: Subhash Sharma for Bloomberg Businessweek
While his family fortune stands at about $13 billion, that kind of spending—to say nothing of indulgences that include a collection of 35 rare cars (one of them a Mercedes converted into a replica Batmobile) and flying in Michelin-starred chefs to cater dinners with his glamorous wife, Natasha—might seem extravagant for someone in his business. Making basic vaccines, particularly for emerging markets, is such a low-margin proposition that manufacturers in the developed world largely abandoned it decades ago. But there's a case to be made that Poonawalla's immoderate ways put him in a better position than almost anyone to help get the world out of its present crisis. Since becoming CEO in 2011, he's habitually ignored projections for sluggish vaccine demand. Instead, buoyed by his family's money and a history of long-shot bets that went the Poonawallas' way, he's steadily increased Serum's production footprint, building manufacturing lines that doubled its capacity and then doubled it again.
The results are visible from the cockpit of Poonawalla's office. Just across a patch of tarmac—he uses it to land his helicopter—are two factory buildings and a giant concrete-and-glass warehouse, a brand-new campus that cost about $700 million to construct. When Serum began planning it a little less than four years ago, the coronavirus pandemic was merely an epidemiologist's bad dream. Now the facilities are starting to be put into commission, boosting annual capacity to about 2 billion doses. That will put Serum far ahead of the second-largest vaccine producer, Sanofi SA, which turns out a bit more than half that volume, largely from Indian factories.
Serum already has a deal to produce a billion doses of ChAdOx1 nCoV-19, the vaccine being developed by the University of Oxford and AstraZeneca Plc, which could win approval from U.S. and European regulators as soon as this autumn. But Poonawalla argues that whichever of the more than 100 vaccine candidates in development ends up being effective, Serum will have to be part of any global-scale manufacturing plan, and not just because of the size of its factories. The only shareholder Poonawalla has to answer to is his 79-year-old father, Cyrus—one of India's best-known bon vivants in his day and the man he credits for his own liberal attitudes toward money. That family ethos is what created Serum's massive capacity, and, in Poonawalla's view, it allows the company to move faster and take bigger risks manufacturing in the pandemic than any publicly listed pharmaceutical giant. After all, he can afford it. Have you seen the plane?
"People today are really puzzled why we are the only ones who can make Covid-19 at this scale, and that's because I had the vision, and we put in all the money, to just build," he says, with typical humility and restraint. "I don't see a choice. They're going to have to come here."
Vaccine manufacturing at the Serum Institute. Video: Subhash Sharma for Bloomberg Businessweek
The Poonawallas trace their lineage to a migrant who, sometime in the mid-19th century, came from western India to Pune, about 90 miles from what was then Bombay. The migrant promptly set himself up as a "billiard marker" at the local British officers' club, keeping score and refreshing drinks. He parlayed his connections with the colonial military into a successful construction business and wound up owning so much land that people started calling him Poonawalla, which more or less means "the guy in Pune."
But his descendants had large families, which divided inheritances. By the time what was left of the fortune made it to Soli, Adar's grandfather, all he got was a house and 40 acres of undeveloped land. Soli used that spread to create the Poonawalla Stud Farms, which would eventually become the country's most successful breeder of racehorses. But the sport of kings had an uncertain future in newly independent, officially socialist India, and as he came of age, Soli's son Cyrus figured it would be wise to diversify into a business with more mass-market potential.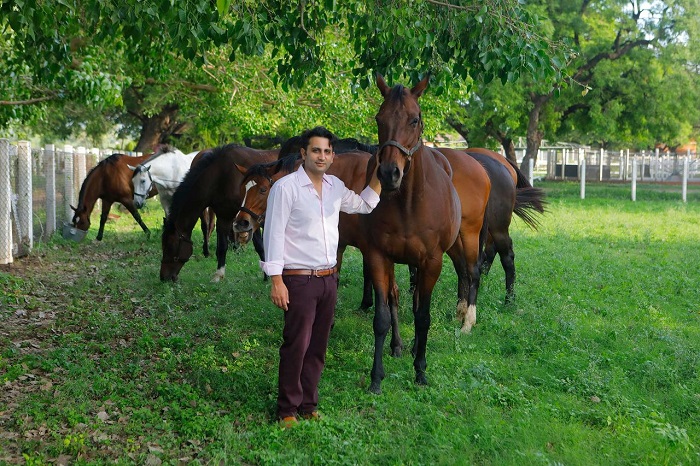 Poonawalla at his ranch. Photographer: Subhash Sharma for Bloomberg Businessweek
Casting around for ideas, Cyrus realized the Poonawallas had ample raw material for two lifesaving products that Indians desperately needed. Anti-venom for snake bites and tetanus antitoxin, which neutralizes tetanus in the bloodstream, are produced by injecting horses with small quantities of venom or bacteria, respectively. When the horses develop antibodies, their serum—the fluid part of blood—can be harvested and refined into treatments. The Poonawallas had been selling retired racehorses to a government institute in Mumbai for that purpose, but Cyrus decided he could do it more profitably himself. The Serum Institute of India Pvt. Ltd., which he founded in 1966, was soon working on vaccines, too, including one for tetanus.
It was a time of huge innovation in vaccines—the measles-mumps-rubella shot was introduced in 1971, while international efforts to eliminate smallpox and polio were in high gear—and Cyrus decided that was where the future lay. At the time, vaccine production in India occurred largely in sleepy government labs, and Serum's more nimble management and lower costs allowed it to win contract after contract from the national and state administrations. Earnings from that work gave Cyrus the capital to import manufacturing equipment from Europe and the U.S., which allowed him to add more products to Serum's lineup.
In 2001, Adar Poonawalla, newly graduated from university in the U.K., joined Serum's sales team. He found the experience frustrating. The company was at the mercy of India's all-powerful and emphatically glacial bureaucracy. He often brought stacks of books to meetings with ministers or civil servants, assuming he'd be kept waiting for hours in their anterooms no matter how early he arrived. "I found that not only humiliating but also pointless," he recalls. "That's when I said, 'This is ridiculous.' "
The only solution was "building, building, building capacity, because I knew the demand for exports would be growing so fast"
Western manufacturers had spent much of the previous decade shifting to more complex vaccines that could command higher prices. But poorer countries often couldn't afford them, leaving much of the market open to anyone who could provide the same benefits at lower cost. Poonawalla believed that should be Serum, which at the time exported to only 35 countries. He began making regular drives from Pune to Mumbai, catching multileg flights to Egypt, Indonesia, and other countries, and found that compared with India, their governments worked at lightning speed. Soon Serum was adding as many as six countries a year to its list of importers. (Today the company sells to 140 countries, accounting for more than three-quarters of its roughly $782 million in annual revenue.)
Production couldn't always keep up with the pace of new business. "Within two or three months of having the facilities commissioned, they were sold out," Poonawalla says. The growth became a virtuous circle. Serum's economies of scale allowed it to sell vaccines cheaper than anyone else and still turn a profit: One meningitis shot went for just 64¢ a dose. Those low prices spurred more demand from governments and organizations such as Gavi, the global vaccine provider backed by Bill Gates. For Poonawalla, the only solution was "building, building, building capacity, because I knew the demand for exports would be growing so fast that we'd never be able to catch up. And that's exactly what happened."
If Poonawalla has played his cards right, humanity's deliverance from its worst viral outbreak in a century may begin on a cramped second-floor landing on Serum's Pune campus. Usually used as a staging area for deliveries, its new purpose was declared by a piece of office paper slid into a plastic sign holder: "Covid-19 Vaccine Manufacturing Facility," it read. The vaccine it referred to is the one under development by Oxford scientists and AstraZeneca, which could be one of the first approved. It uses a harmless chimpanzee virus to mimic the so-called spike proteins that allow the coronavirus to breach human cells, hopefully training the body to recognize and destroy them.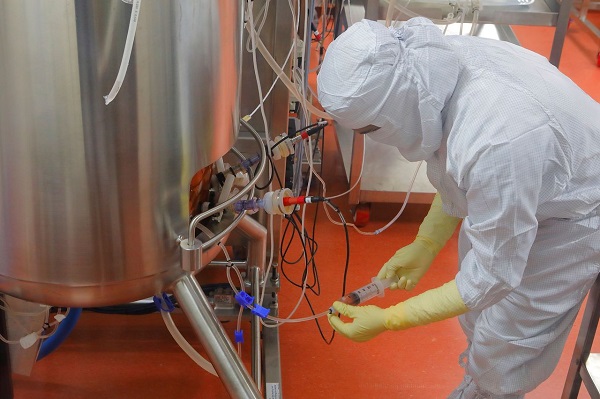 A Serum technician checks on coronavirus vaccine production. Photographer: Subhash Sharma for Bloomberg Businessweek
Because the Oxford team, led by researcher Sarah Gilbert, had proved the same method was safe for humans with a previous experimental vaccine, its Covid-19 effort entered human trials at high speed. AstraZeneca, which agreed in April to back the effort with its financial muscle and distribution network, wanted to begin putting together the necessary factory capacity right away, so if the vaccine does prove effective, injections could begin immediately. Poonawalla says he and Pascal Soriot, AstraZeneca's CEO, were connected by a mutual friend in May. Over a couple of video calls, they negotiated a deal for Serum to manufacture about 1 billion doses over the course of a year, almost half the overall total, with 400 million due before the end of 2020. They'll be sold at cost until the end of the pandemic—in a recent deal to supply 100 million doses to low- and middle-income countries, Serum capped the price at $3 per shot—though even after that Poonawalla estimates he won't charge much more than $13.
Global Vaccine Sales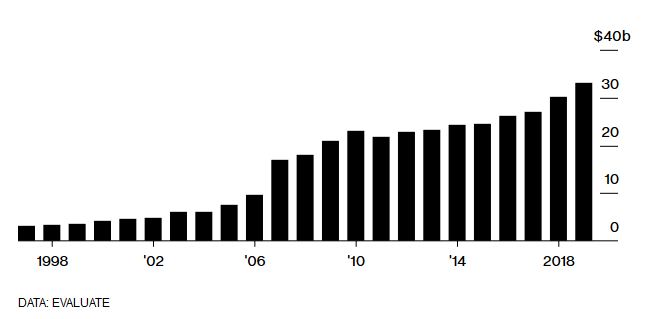 When I visited in June, the company had already started preproduction. In a sterile room crammed with stainless-steel lab equipment, a technician in a white hooded jumpsuit attached an oversize plastic syringe to a tube sticking out of a 200-liter (53-gallon) bioreactor—essentially a still that grows cells instead of fermenting alcohol. Slowly pulling back on the syringe's plunger, he drew a slug of pinkish goo from inside. A huge bag of the same substance was sitting on a heavy-duty steel shelving unit, feeding into the bioreactor through another tube, like a giant IV drip. The fluid, known as animal cell culture media, is a soup of nutrients and amino acids that the cells growing inside the reactor use for sustenance, and the technician was taking a sample to see how they were doing.
The goal was to create a "virus bank"—a large volume of human embryonic kidney cells that can be infected with the Oxford researchers' modified virus. Once the virus had multiplied through these cells, they might be purified and processed to produce a modest quantity of vaccine, but in this case the Serum team was planning to bank them to infect even more cells, part of its plan to have enough for commercial manufacture. The company was in the process of ripping out the ceilings above another factory floor, creating room for 2,000-liter bioreactors suitable for pandemic-level production.
Inside the Serum Institute. Video: Subhash Sharma for Bloomberg Businessweek
The Oxford team published promising data in a July article in the Lancet, showing its vaccine produced an immune response in almost everyone who received it in early tests. But it still has a long way to go before its safety and efficacy are proved in large-scale human trials, which are now under way. If the vaccine fails to prevent disease or turns out to have unacceptable side effects, Serum's preparations will have been for nothing. That would incur a loss the company estimates could be as high as $200 million—though the Bill & Melinda Gates Foundation has agreed to help share some of the production risk, and Serum hopes to repurpose its new equipment for other coronavirus vaccines.
That could require some significant retooling. Another leading candidate, from the U.S. biotech company Moderna Inc., relies on a never-before-used method that teaches the body to ward off the spike proteins by recruiting its own cells to produce and release them. This "messenger RNA" method—so called because the instructions for the spike protein are written in bits of genetic code that tell cells what proteins to produce—might be much easier to make at scale. Researchers at Imperial College London estimate that a single 5-liter bioreactor could produce as many as 50 million doses a year. But the technology is completely unproven, and Serum will have the capability to manufacture it only early next year, using techniques it's never employed before.
The company is far more experienced producing vaccines of the oldest kind: inactive or weakened forms of an original virus, rendered harmless by heat or a chemical such as formaldehyde, or trained to infect a chicken embryo until they become inept at replicating in humans. At least two Chinese companies are developing coronavirus vaccines that employ the inactivated-virus approach, but it's not clear where production would occur if they're successful.
The potential for complex problems, and even outright conflict, is obvious. The past several months have seen the emergence of a sort of vaccine nationalism, with governments around the world clamoring to make sure their citizens are at the front of the line. Sanofi CEO Paul Hudson prompted outrage in France when he said the U.S., which put up initial cash for manufacturing, would likely get the first shipments of the vaccine the Paris-based company is working on with GlaxoSmithKline Plc. The U.S. Department of Health and Human Services, meanwhile, recently bought up almost the entire short-term supply of remdesivir, an antiviral drug that's been helpful for some Covid-19 patients.
Poonawalla says Serum has received no direct instructions from the government in Delhi to prioritize domestic use—only a general mandate to "make sure you have enough vaccine for India." The plan for now is to devote half of Serum's Oxford vaccine production to its home country—enough to cover the most vulnerable, plus a substantial chunk of the general population—and the rest to other developing nations, many with no meaningful production capacity of their own.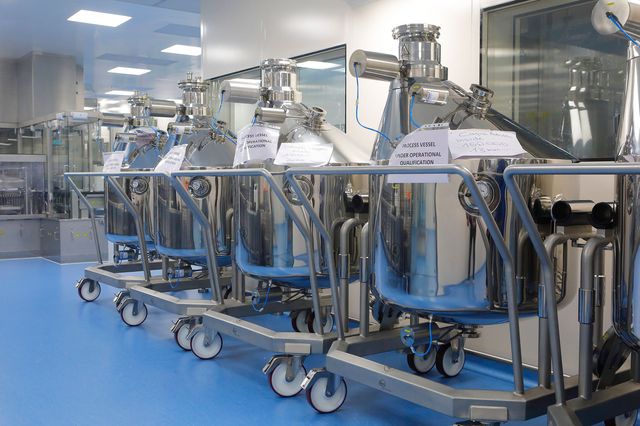 The Covid-19 vaccine plant at Serum Institute. Photographer: Subhash Sharma for Bloomberg Businessweek
That would make Serum something of an outlier. If AstraZeneca's manufacturing plans are any guide, most vaccine supplies are going to be national or regional, with American factories supplying the U.S., European ones responsible for Europe, and so on. But India, which already produces about 60% of the world's vaccines, would make the shots for itself and anyone else who needs them. How much of that production comes from Serum, and not its many smaller but no less adept domestic competitors, will depend on Poonawalla's abilities as a dealmaker and his production team's ability to adjust to the needs of the winning formula.
No one can afford to wait long for a coronavirus vaccine, but time in poor countries is particularly short. India, where tens of millions of people live in densely packed slums, implemented one of the strictest lockdowns in the world but has failed to flatten the curve of infections, more than 2.1 million of which have been confirmed. The virus-fighting measures contributed to an economic collapse, throwing more than 100 million people at least temporarily out of work and creating a real risk of starvation among the poorest. So while some richer nations were able to maintain controls on movement until new cases fell to manageable levels, Prime Minister Narendra Modi had little choice but to open the economy back up, whatever the cost in viral deaths. So far, more than 43,000 have been recorded, with the daily count regularly exceeding 800 in early August. Many more almost certainly have gone uncounted.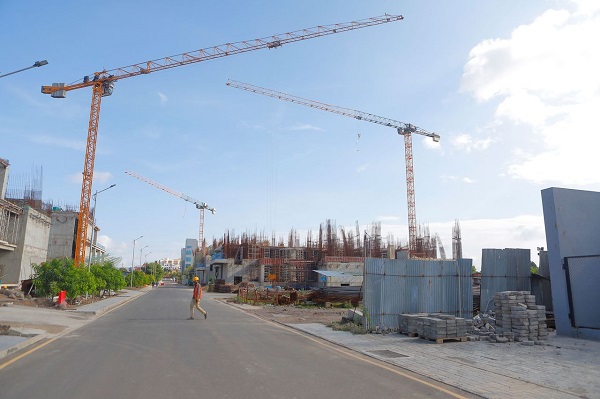 Serum's billion-dose vaccine factory, under construction. Photographer: Subhash Sharma for Bloomberg Businessweek
What worries some epidemiologists, though, is the possibility that humanity is entering a dangerous new age of infectious disease. There have been a half-dozen serious viral threats over the past 20 years, from the outbreak of severe acute respiratory syndrome (SARS) to the Ebola epidemic in West Africa, which shattered previous records for the spread of the terrifying pathogen. The odds of more emerging are arguably higher than ever. The destruction of natural habitats is putting people into much closer contact with animal viruses, while global travel networks make it possible for them to spread with ease. Many of these "zoonotic" viruses will be harmless to people, or not contagious enough to travel far, but some could have the right mix of attributes to create another catastrophe.
Shortly after the World Health Organization declared a pandemic in March, Poonawalla assembled 600 construction workers to build his biggest plant yet. Two months later the hulking concrete frame of the first and second stories was in place, with thickets of rebar pointing upward for the third. When the facility is complete in three years, it will add an additional 1 billion doses to Serum's annual capacity, at a cost of about $400 million. With any luck, the coronavirus will be far less of a threat by then, and immunizations for it in only limited production. But Poonawalla plans to keep the new line ready for whatever comes next. "Maybe not in my lifetime, but at least in my children's lifetimes, there's going to be another global pandemic," he says. "And I'm willing to bet anything that pandemic will be far worse than this."
For much of the past two decades, proposing big, speculative investments in vaccine production would get you laughed out of many pharma company boardrooms. It still might. Vaccines are expensive and risky to develop but rarely have the payoff of, say, a new cancer therapy. A disproportionate share of the demand comes from developing countries with little ability to pay, and by definition each patient receives just one or a few doses, rather than becoming a long-term customer. In a 2019 report on global vaccine development, McKinsey & Co. said "pipeline growth has been flat" among the so-called Big Four vaccine developers—GlaxoSmithKline, Merck, Pfizer, and Sanofi—with more lucrative products such as biologic medicines attracting a rising share of investment dollars.
Poonawalla's business model, by contrast, is built almost entirely on vaccines—and he's hopeful the experience of Covid-19 will spur a dramatic change in how governments, and investors, view his product. Politicians are going to "put huge priority and funding to vaccine procurement and distribution," he says. That would benefit Serum enormously, though Poonawalla insists he won't cash in on the interest by going public or bringing in outside investors. But he is investigating the possibility of setting up some kind of dedicated unit to prepare for novel threats, and finding a philanthropic entity or sovereign wealth fund to help back his 1 billion-dose pandemic factory. Poonawalla is plenty rich and has the tolerance for long-term risk you might expect from a man who was to the stud farm born. But the burden of permanent vigilance against the next catastrophe is more than he can handle. "The endgame solution is to have some dedicated pandemic facility on standby forever," he says. "Finding a financial model to keep that going is where I will need outside funding."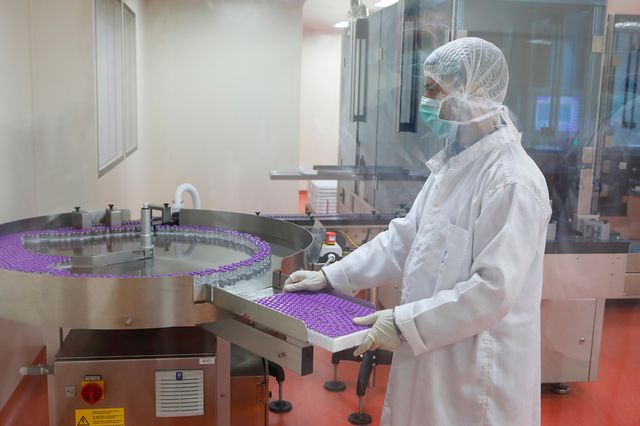 Vaccine manufacturing at the Serum Institute. Photographer: Subhash Sharma for Bloomberg Businessweek
In the meantime, Poonawalla's family is isolating at home, albeit with a vibe that's more Lifestyles of the Rich and Famous than Contagion. They've been riding out the virus in a spacious ranch house, surrounded by 190 acres of rolling hills and patches of woodland. In a glass-walled enclosure in the garden, Natasha, his wife, told me about how the virus scotched her tentative plan to send one of her two sons to a British boarding school, forcing her to take over his education personally. Meanwhile, a platoon of waiters in white shirts and black waistcoats laid out a teatime repast of cakes, cookies, and nuts. None of them wore masks; no one is allowed to get near the family without being tested. The last thing Poonawalla wants, as he tries to roll out a vaccine the world desperately needs, is to get sick. "I need to perform, and I'm focusing on that," he says.
Natasha had barely had a chance to reach for a cookie before we were called out to the lawn. Two miniature Shetland ponies that Poonawalla wanted to show me had been fetched. Attendants led them to an artificial waterfall to pose for photos with the couple, Poonawalla in burgundy jeans and a light pink button-down and Natasha with a sleeveless Louis Vuitton hoodie hanging off her shoulders. They each held one of the tiny horses by a leash.
After the photos were taken, the Poonawallas retired to a nearby patio. As I left, the last thing I saw was the team of butlers racing across the lawn, the snacks we'd abandoned earlier balanced on silver trays.
Source - Bloomberg